Summer Camp for Educators!
SAVE THE DATE:        June 23th through July 2th 2018

for the ULTIMATE professional development experience!
 
Summer camp isn't just for kids anymore!  Come experience Alaska in a totally unique adventure while immersing yourself in the Iditarod for nine days!  2018 Summer camp:  $790 – 

Campers spend four days at the Dream a Dream Dog Homestead, home of Iditarod mushers Vern Halter and Susan Whiton.  Not only has Vern run the Iditarod eighteen times, he regularly trains and prepares mushers for the trail as they embark on their own Iditarod adventures.  At the homestead, campers will get a taste of what it is like to live at a premier Iditarod kennel…. from dog yard chores, to puppy walks, to harnessing dogs, to training runs…. campers will experience it all!
The town of Wasilla is home base for the rest of the camp session.  Educational sessions will be presented by mushers, authors, master teachers, volunteers, and more.  Campers will have the chance to explore the surrounding area by taking field trips as a group, as well as having some time to explore on their own.  Special projects and opportunities for campers and their classes to be involved in the race will be introduced and started!  Camp is just the beginning of your journey down the trail!
A highlight of the summer camp session is attending the Volunteer Picnic at Iditarod Headquarters that coincides with the first day of signups for the next Iditarod.  Meet mushers, get autographs, and collect artifacts to take back and share with your students!
Camp dates:  (Starts at noon the day of camp, ends about 2:00 pm on the last day of camp.)
2018:  June 23 – July 
2019:  June  June 22 – July 1
Why attend?  Annie Kelley says….
Summer Camp provides educators
with the opportunity
to grow their teaching toolbox!
Our mission is to help teachers be better educators and engage students in achieving academic success by implementing curriculum and activities based around the Iditarod.  The outcome of attending our summer camp is a stronger and highly qualified instructional team that will provide students graduating from high school a path to further their education with better preparation entering the fields of science, math, engineering, & technology as true world problem solvers, critical thinkers and resourceful citizens.  Iditarod based lessons and activities add rigor to your lessons and are highly engaging!  Join us at summer camp!  You'll be glad you did!

Sessions at camp not only build a knowledge base about Iditarod and Alaska but challenge educators to use best practices of education and improve curriculum writing skills to directly impact student success through Iditarod based experiential learning opportunities.
Educators can receive 6 University credits
Iditarod based learning is aligned to educational standards and best practices.  (Common Core or state/national standards and 21st Century Learning)
Iditarod based learning lessons are developed by teachers for teachers and designed to impact academic success for learners of all ages.  What we do is driven by the needs of the teachers and students.
A Testimonial about Summer Camp and Iditarod as a Classroom Tool – Kari Hanson, Wisconsin, 2015 Summer Camp Attendee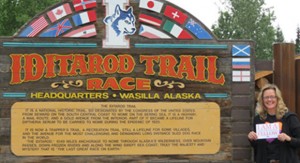 Whether it's the universal love of animals, the lure of a great adventure story, or learning about a culture so different from their own, the Iditarod is a topic of study that has always appealed to my students. I've utilized the race as a teaching tool in my classroom for 17 years and each year I'm amazed at the level of enthusiasm the race inspires in my students who will likely not travel beyond our county (where the poverty rate exceeds 15 percent) or our state.
Personally, the Iditarod has grown from a mere topic of interest to the focus of my Capstone Project when I obtained my Master's Degree in 2001. I've put a great deal of study into enhancing my knowledge of Alaska's history, the Iditarod and dog sledding in general. I've attended a race in a nearby state, planned three dog sledding excursions for small groups of students and found hard-to-come by guest speakers who shared their knowledge with our class. I also scoured garage sales and nearby auctions to obtain related objects that enhance my classroom atmosphere. I had exhausted all of the resources available to me, so I applied for a Fund for Teachers grant to take part in the 2015 Iditarod Summer Camp for Educators.
The opportunity to travel to the remote state of Alaska for this workshop was a dream come true. Not only did it provide me with materials, resources and valuable collaboration, the fellowship also gave me the opportunity to learn and challenge myself. I tried many new things, stretched as an educator and witnessed different cultural traditions alive and well in the land of the midnight sun.
---
I am more excited for this coming school year than I can ever remember; my fellowship is going to make a huge difference in how I approach teaching.  I plan to pair my students with third graders in our district to complete the Web Ranger program managed by the U.S. National Parks Service.  This opportunity allows my seventh graders a chance to not only perfect their close reading skills while helping younger students, but also gives them the chance to be a role model. I will incorporate some higher-level technology projects to challenge those gifted and talented students who work at a quicker pace. Once my students have helped the third graders complete the Web Ranger program, they will advance to studying a national park in Alaska.  My hope is to schedule a park ranger visit to our school on National Junior Ranger Day in April or Skype with a ranger to discuss the importance of 2016's National Park Centennial.
During my visit to the Native Heritage Center in Anchorage, I learned about the Ten Universal Values practiced by Alaska's native groups: show respect to others, share what you have, know who you are, accept what life brings, have patience, live carefully, take care of others, honor your elder, pray for guidance, and see connections. I immediately considered how many of students lacked these values. Therefore, we are focusing on one value each month through activities and lessons that highlight the importance of each one. This will also provide great opportunities for community service projects.
---
Three months post-fellowship, I am still amazed that I was awarded this grant. Teaching in a small, rural district comes with many challenges and budget constrictions, but attending the Iditarod Summer Camp is by far the best professional development experience I have ever had. Words, videos, pictures, etc. can never fully explain my experience to others. No matter how I try, words do not do justice to the nine incredible days I spent on this endeavor.
To be honest with you, it is very easy to get discouraged in education today. We are working in a field where we are constantly asked to do more with less. Our dedication and professionalism is constantly called into question by people who have never stood before a group of students. At camp, I met teachers from all across the country. Although some of our circumstances were very different, our views on education were very similar:
We love kids.
We love what we do.
We see the value in a good education.
But many times the decisions that affect schools the most have nothing to do with any of these things. It is because of this, that I want you to know how important it is that Fund for Teachers keeps supporting teachers, students and schools.
---
Kari Hanson (Viroqua Middle School – Viroqua, WI) has taught language arts to seventh graders for 22 years. In addition to being a 2015 FFT Fellow, she is also a previous winner of the A&E Network Idea Book for Educators grant.
2017 Summer Camp Schedule:  Visit our Camp website.
Sample Schedule for SUMMER CAMP:
(Exact schedule and speakers change each year.  Similar schedule will be followed each year!)

Day One:   (1/2 Day, We start at noon!)
Campers gather at the Dream a Dream Dog Farm to meet the camp staff and the Dream a Dream Dog Farm team!  (This is a half day session, starting at noon.)
Philip Walters, 2015 Iditarod Rookie and middle school band teacher, gets us started with great stories of mushing and how his dog team is like his band students!
We ring in the summer solstice with a gourmet Alaskan meal of grilled salmon prepared by our host Vern Halter. 
Day Two:   
Mornings at the kennel start with dog yard chores and puppy walks!  Vern Halter takes us through Iditarod 101 training.  Who better to learn about the race from then an 18 time finisher?
2014 Iditarod Teacher on the Trail, Jen Reiter, shares her tales from the trail.  
In the afternoon we visit Lisbet Norris and her kennel of AKC registered Siberian Huskies.  Lisbet introduces us to the dogs who took her safely down the trail of her 2014 Rookie Iditarod run!
We head to Talkeetna and become part of the 30% of visitors who have seen Denali!  
Dinner is served at the Wildflower Cafe by chef Jerome Longo.  Jerome is both an Iditarod finisher and a former White House chef!  Our special guest is Debski, long time race volunteer.  Debski is a master chef in her own right – serving up hundreds of meals for volunteers at McGrath and Nome! 
Day Three:   
• Morning chores and puppy walks.
• Meet author Katie Mangelsdorf.  Her biography of Joe Redington, Sr. is the go to source for race history.  
• We get out of the classroom and on to the trail with cart rides!  Vern and 2014 Rookie Musher Cindy Abbott put us behind a team of charging race huskies!  
• Alaskan teacher Sara Lamont shares ideas about using the Iditarod as vehicle for teaching math concepts.  
• Cindy Abbott shares her unique and courageous story of running the race to bring awareness rare diseases.  
• 2015 Iditarod Teacher on the Trail, Erin Montgomery, gives us a sneak peek of what we can look forward to while following her down the trail this year. Sara shares stories of her time living in rural Alaska and gives us lots of background information on the native cultures of the state. 
Day Four: 
Puppy Walks!  Vern tests our knowledge in the ultimate Iditarod hands-on assessment!  
We get another cart ride!  
Joe May, 1980 Iditarod Champion, and Raine Hall, first paid employee of the race, delight us with stories of the first ten years of the race.  They give us a sneak peek into a special project they are working on about the race's early history.  
We say our goodbyes to the kennel and hit the trial to Wasilla. 
Day Five:   
Visit to the Dorothy Page Museum.  Dorothy Page is considered to be the "Mother of the Iditarod."  
A trip to Iditarod Headquarters where Barbara Redington shares stories and information about the Junior Iditarod.  
Experience a cart ride with Raymie Redington, twelve time finisher!  
Visit the home and studio of Jon Van Zyle, official Iditarod artist where you  drool over his artwork, his wife Jona's textile work, and love on their purebred Siberians! Artwork is available for purchase… what a great gift for yourself or someone back in the lower 48! 
Day Six:   
The Native Heritage Center introduces us to the five native culture areas found in Alaska.  We witness an amazing display of athleticism in the games of the Native Youth Olympics.  
Stop by and visit Team Baker @ the Native Heritage Center and take another cart ride!
Recess!  In the afternoon we follow our own passions and explore Anchorage! 
Day Seven:   
Back to the classroom to put it all together.  Education staff members share ideas, lessons, and projects for using the race as an educational tool in all classrooms.  
Chief Vet, Stu Nelson, visits and share information about the true athletes – the dogs!  We learn about the attention to detail employed while caring for the teams.  
Teachers complete the paper work for earning college credit if they wish! 
Day Eight:   
Some campers wake up extra early help count ballots, thus becoming official volunteers for the 2015 Iditarod Race!  
Head to headquarters for the Annual Volunteer Picnic!  Mushers stop by to sign up for the 2015 race, sign autographs, and shoot the breeze! Teachers become groupies, win prizes, have an amazing lunch, and officially welcome the newest Iditarod Teacher on the Trail! 
Day Nine:   
Adventure ON! Campers split into two groups to explore glaciers on their own.  Some travel by boat out or Portage, most choose to hike on the glacier with a certified guide.  We are finally chilly in Alaska! 
Day Ten:  (1/2 day)
Our final session as we wrap it all up!  We describe how our individual explorations yesterday relate to the race and we make plans about how to implement all we have learned!  (This is a half day session)
We vow to keep in touch, support each other, stay calm, and mush on!  We feel refreshed, energized, and eager to ride into the new school year on a sled pulled by sixteen charging huskies!!!
 Currently this outline is based on previous Summer Camp Schedules and
details are still being confirmed for this year's Summer Camp.
 
For Further Information email: CLICK HERE